This 1794 uncirculated token is from the county of Middlesex, England and is known as a Shackelton 477a per the Dalton & Hamer reference book. The "a" is to designate a variety - a rim inscription for "payable in dublin or london". This edge variety is considered Rare with less than 75 made. This general trade token was worth a half penny and was used to make change. These tokens came into being for a variety of reasons due to a shortage of money that could be used for everyday transactions for the common man as the industrial revolution came (and rural migration to the cities) to the fore in England.
Francis Shackleton was a London based candle maker and was favored by the then Duke of York. The reverse of the token depicts a wooden frame used to make candle molds. Once a wick was pulled through the tube and fastened, warm tallow (the harder fat of sheep, cattle, etc., separated by melting from the fibrous and membranous matter naturally mixed with it - dictionary.com) was poured in and left to cool. Once hard, the candles were drawn out of the mold.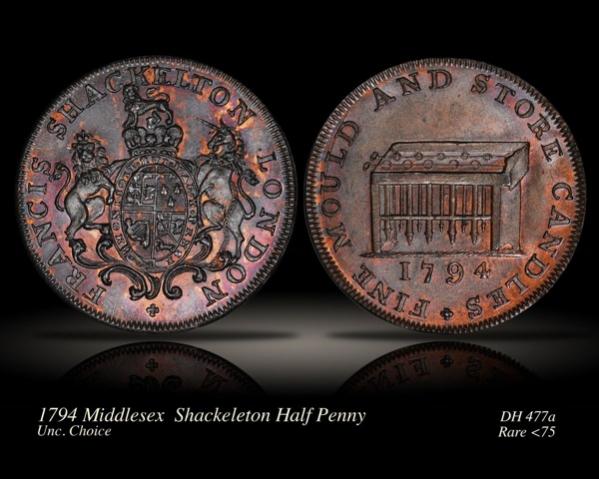 Note the unicorn on the right of the British Coat of Arms. According to the research about the emblem, a free roaming unicorn was considered to be dangerous and hence the chain is depicted to rein in such a wild beast!
I absolutely love the wonderful colors and am impressed with its condition for something this old. Many of these tokens were so well made that people of those times became contemporary coin collectors, preferring to marvel at them versus using them as money. So, one can find Conder tokens in fantastic condition and at reasonable costs.
Just so you know, the above piece didn't cost me an arm or a horn

. $74 postage included (purchased in 2008 - I bet it might bring a "tad" more now if NGC slabbed and marketed!).
I hope you appreciate this piece of history as I do!