The first year of issue for the Two Cent piece is known for a major variety. Anyone can quickly pick up the skills to easily identify the differences of the large versus small mottos. The pictures shown here are marked to help direct your examination of these coins.
The IN GOD WE TRUST motto letters are the first indication of this variety. The small motto letters are shorter and fatter than those on the large motto coin. This author first looks at the first T and the U in TRUST, the large motto U almost reaches the lower edge of the banner while the small motto shows a clear margin between the U and the banner edge. The T resides much closer to the fold in the banner than does the large motto example.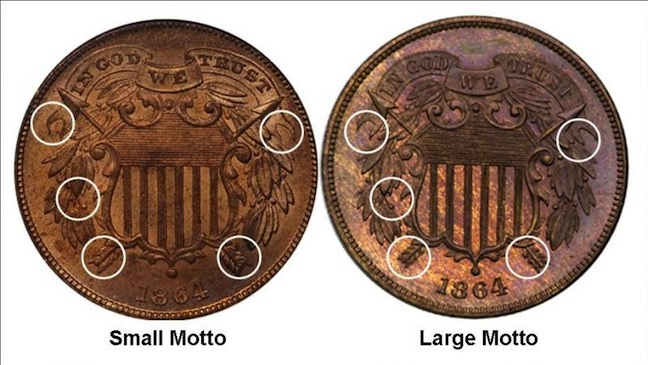 With that information in place examination can continue to confirm any given piece.
Key differences include:
The tips of the banner show clear differences.
Two berries show on the lower left set of leaves on a genuine small motto.
The large motto piece only will show one.
The feathers on the lower end of the arrows should be checked as well. The large motto piece will display three feathers on the outside of the arrow and four on the inside. Genuine small motto coins will show three feathers on the outside and five on the inside of the left arrow. The right arrow should show four on the outside and five on the inside.
The specialist will also point out several other differences but be assured that mastering the few key differences shown here will put you on the road to being able to "cherrypick" the two cent small motto variety.
Bibliography: Flynn, Kevin; Getting your Two Cents Worth, Rancocas, NJ 08073