Shown here are two of the Lincoln Civil War tokens in my personal collection.

First up is my Fuld 127/248a. This is a copper token with Lincoln facing to the viewers left. It is rated R-4 which means 200 to 500 are known. The reverse says "O. K.". I would guess that the maker of this token was saying "with Lincoln in charge, we will be O.K.".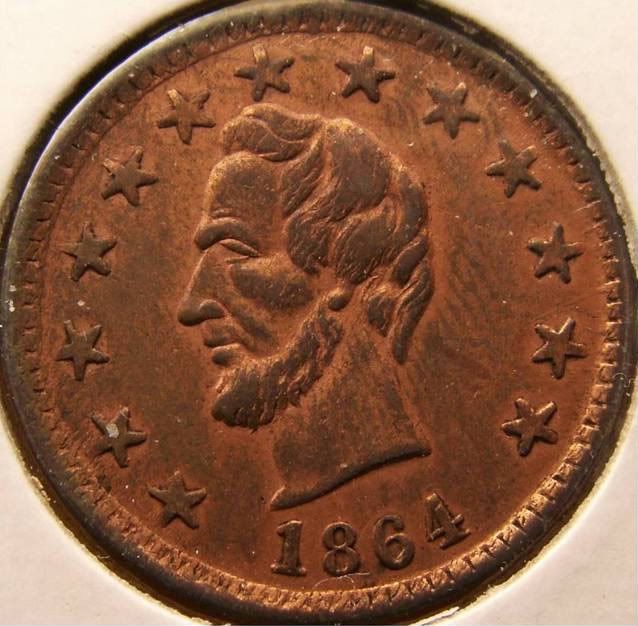 Second is my Fuld 128/289b. This is a brass token with Lincoln facing to the viewers right. Rated R-3 (500 to 2,000 known). The reverse of this token is very interesting. It shows an eagle with the olive branch in its right talon and arrows in its left talon. This is symbolizing that we prefer peace over war. At the bottom are more olive branches again showing peace. On the top curve of the token is the motto LINCOLN AND UNION. To refuse this token in change would be un-patriotic. This is my favorite of the two.



I am not suggesting that you "must" collect Civil War tokens. Nor am I suggesting that any books be changed to include Lincoln Civil War tokens as Lincoln cents. But having one or two would be an interesting addition to your Lincoln set. For more information on Lincoln or any other Civil War tokens, please join the Civil War Token Society (founded in 1967) which you can do from their easy to use website using PayPal: www.cwtsociety.com. Membership is a very reasonable $15 per year. You will receive the Society's excellent quarterly journal, which includes a mail bid auction in every issue. Once you're a member you can receive discounts on back issues of the journal (a must for any CWT collector!) plus the Fuld books to look up the tokens in.

Sources: The Civil War Token Collectors Guide, including complete Token Valuations for the year 2002 by Bryon Kanzinger, 2001, Valley Forge coins-books Division. Patriotic Civil War Tokens By George and Melvin Fuld. Fifth Revised Edition, 2005,The Civil War Token Society.