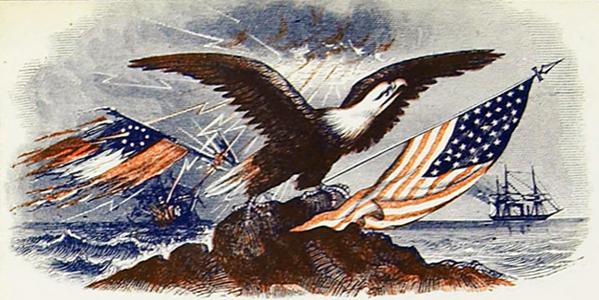 Early in 1862 all coins disappeared from circulation. The general public, concerned about possible increases in values of all metals, began hoarding their change. First gold and silver coins disappeared from circulation. But before long, even copper coinage became extremely scarce. Virtually over night, there were practically no U.S. coins of any denomination in circulation. Merchants and proprietors found themselves in a difficult situation. With no coinage available, they were unable to conduct everyday transactions with their patrons. Resultantly, they found themselves forced to create and issue their own private coinages. The first of such appeared in Chicago in the early decade of the 1860s, and quickly spread elsewhere.

Two distinct types of Civil War Tokens were struck. Both of which served a valuable need for merchants, proprietors, and the general public. Without them, commerce in the U.S. would have slowed to a standstill.

The first consisted of storecards, which were tokens that featured a merchant or proprietor's name and advertisement. A sample is illustrated below: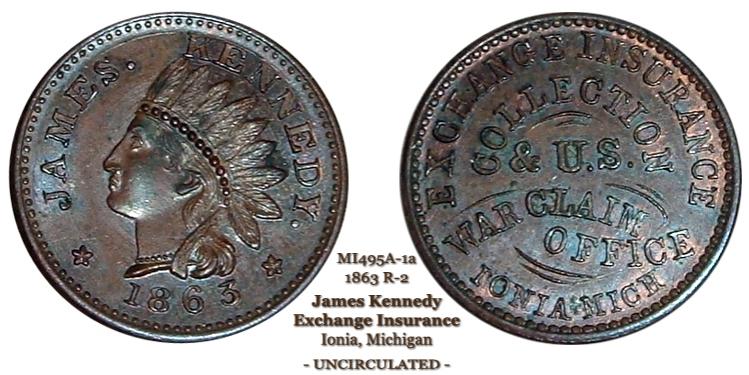 Civil War Storecard


The second type, known as Patriotics, are illustrated in the following. Patriotics utilized generic, or "stock" dies, and did not explicitly feature any particular merchant or proprietor's name or advertisement. Rather, the dies usually featured some sort of patriotic theme.


Within 6 months after their first appearance in Chicago, both types of Civil War tokens began appearing elsewhere throughout the country. In the east, private tokens started appearing in New York.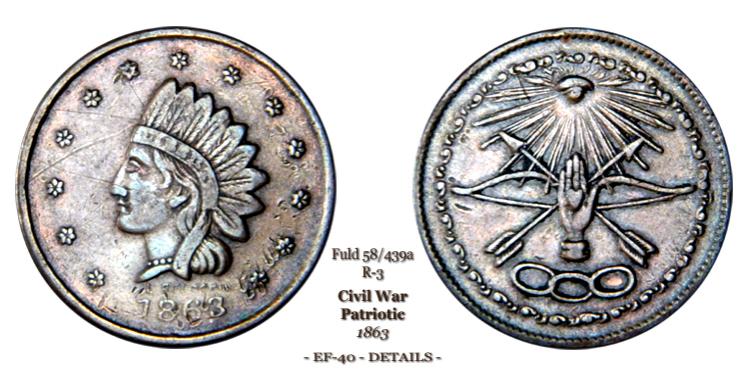 Quickly thereafter, they cropped up in Baltimore, Boston, and Philadelphia. In the midwest, they started appearing in Chicago, Milwaukee, and Detroit. Before long, they had spread even to the small towns of most northern states; Rhode Island, Ohio, Wisconsin, Illinois, Indiana, Maine, and the like.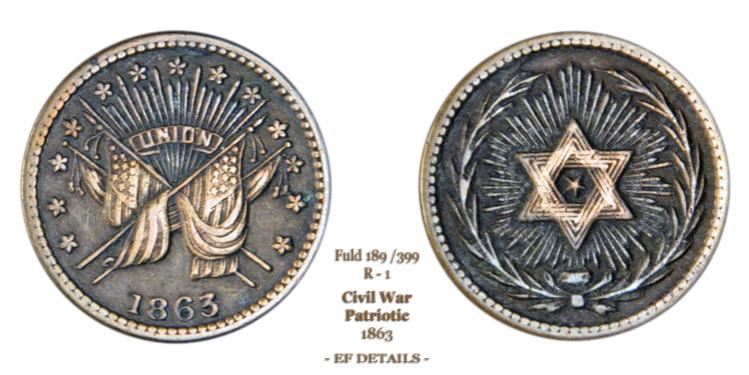 Of total, approximately 25 million private tokens were struck and circulated through the Civil War. Among those millions, there existed over 7,000 unique varieties. Most were struck in 1-cent denominations, and were typically the size of a U.S. Indian Head cent (19mm). Other denominations were struck, of varying diameters, including those for 5, 10, and 25 cents. However, the quantities and varieties minted for these higher denominations were significantly less.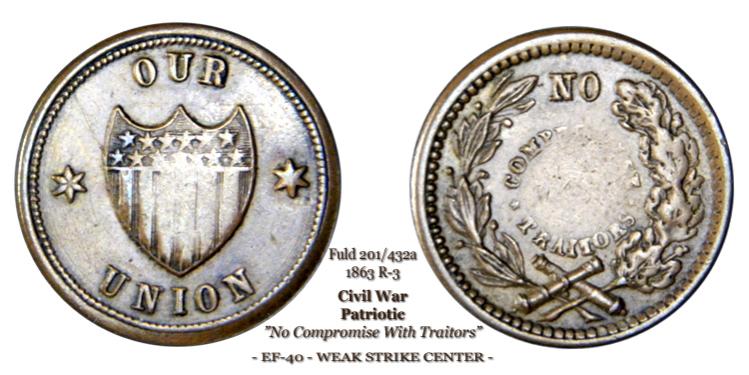 In 1864, Congress outlawed private coinage; thereby severely curtailing all Civil War tokens, including the Patriotics.


Patriotic Civil War tokens are readily available for reasonable and fair prices. The Patriotic series is a terrific way for collectors and numismatists alike to venture into collecting exonumia from the Civil War era.

- Cheetah

__________________________
Sources

1. Standard Catalog of United States Tokens 1700-1900 4th Edition, Russell Rulau, Krause Publications, 2004
2. Patriotic Civil War Tokens 4th Edition, George & Melvin Fuld, Krause Publications, 1982
3. Die Photos & Fuld/Moore Listings Update of 4th Revised Edition Patriotic Civil War Tokens, George & Melvin Fuld, 1993