In 1830s New Jersey there was a picturesque and grandiose town established, situated in Monmouth County, thirteen miles south of Freehold and six miles west of Sea Girt. Known as the town of Allaire, for two decades the town ranked as one of the largest industrial centers in the Eastern United States.

The construction of an iron smelting works marked the town's beginning. Incorporated in 1828, the Howell Works Company began operations and a company town was created. Only three years thereafter, in 1831 the company was sold, and James P. Allaire, the company's president, purchased the company as its sole owner.

After acquiring the company, Allaire began systematic initiatives to make improvements to his company, as well as the company town that supported it. A modern smelting furnace was erected, which replaced the less efficient and outdated one.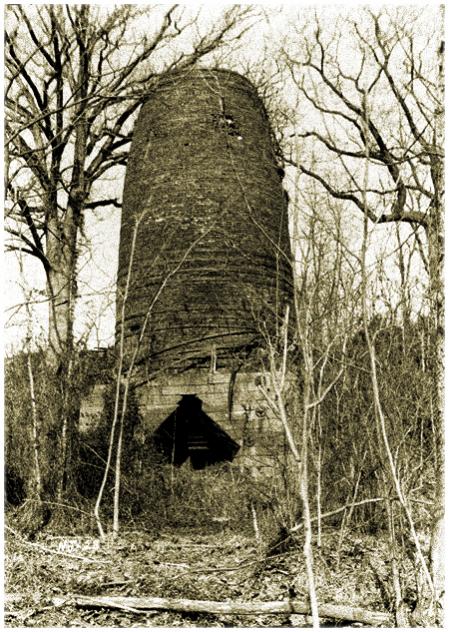 Ruins of Allaire's 1831 Blast Furnace

Infrastructure connecting the town was upgraded, and roads leading to the town were improved. Docks at Oceanport were built, sloops were procured, and regular shipping routes to New York City commenced.

Company housing was built for employees, as well as all of the other enterprises and buildings necessary for a functional town.

Allaire built a waterworks, a mill, a bakery, a company general store, a church for worship, a carpenter's shop, and a factory for manufacturing screws. Other ancillary buildings were also constructed, including housing for company foremen, an enameling house, as well as a charcoal fuel depot.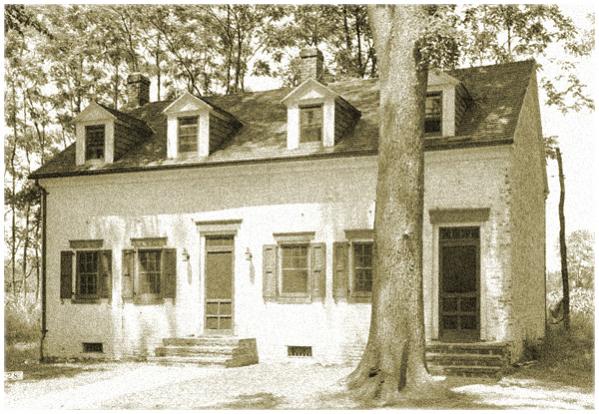 Employee Housing at Howell Work's Garden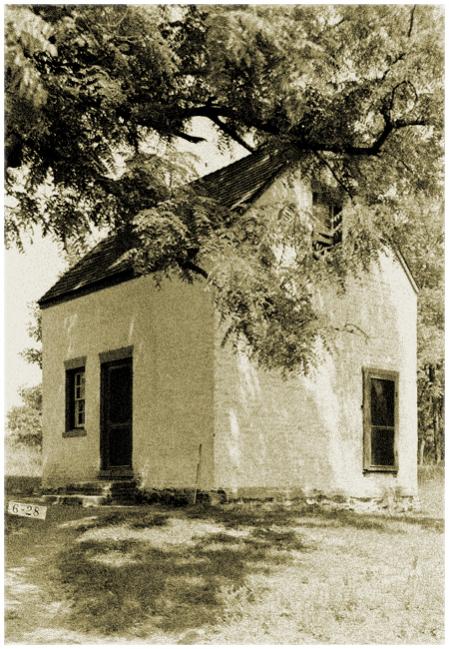 Foreman Housing at Howell Work's Garden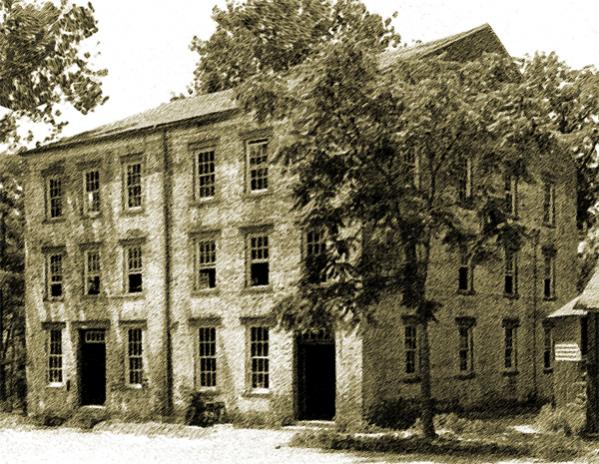 Company Store for Employees

Ruins of the Blasting Furnace's Charcoal House

Along with the company's core industrial activities, about 500 total men were in employed in the various industries which comprised the town. Five large farms, abutting the town, were bought to supply fresh food, as well as provide the necessary land to construct a canal to bring water to the town from the nearby Mingemahone Brook.

Eventually stage coach lines were brought into service. Daily, scheduled trips to and from other New Jersey towns were offered. Steamboat lines soon replaced Allaire's older sloops, and goods were brought in from New York to further supply the town. The same steamers, in their outbound voyages back to New York, were utilized to ship Allaire's finished iron products to the city.

As was common in the era, U.S. coinage was scarce. Beginning in 1834 supplies of privately minted bronze and copper coins, one and two cents, and private bills ranging from six-cents to $15, were placed into circulation. Unlike other shinplasters of the era, Allaire's name and company on the emissions were considered sufficient guarantees that the private money was financially sound.


One-Cent Piece, HT-200, 1834 Howell Works Garden, Copper, Rarity-4 (76-200 known to exist)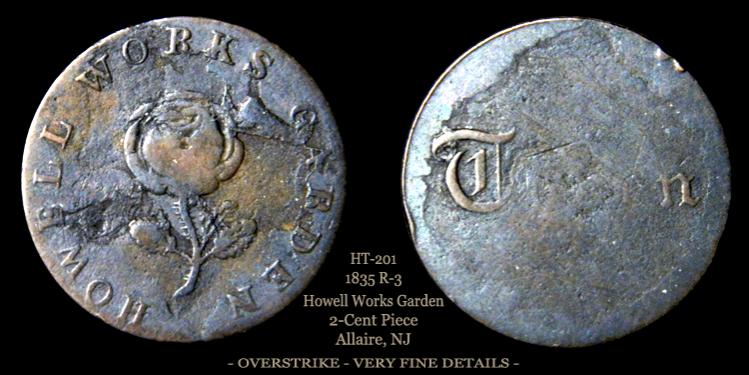 Two-Cent Piece, HT-201, 1835 Howell Works Garden, Copper, Rarity-4 (201-500 known to exist)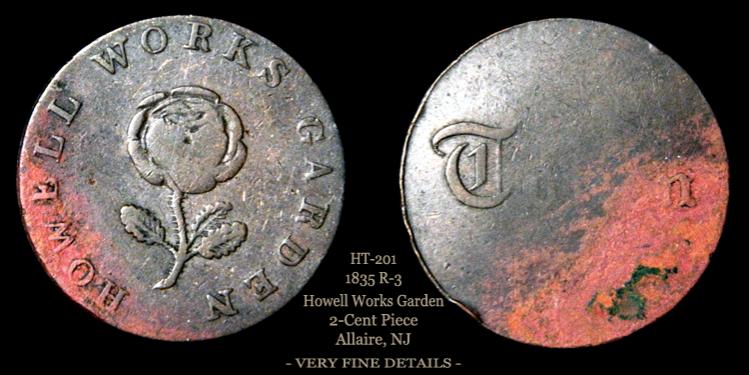 Two-Cent Piece, HT-201, 1835 Howell Works Garden, Copper, Rarity-4 (201-500 known to exist)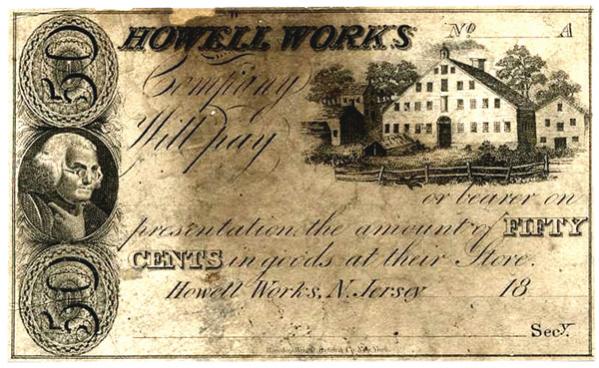 50-Cent Note, HT-Q69, 183?, Rarity Unknown


Unfortunately the prosperity at Allaire was not to last. The financial panic of 1837 crippled James Allaire and his access to capital. Allaire, who had extensive works in New York city, had to divest his ownership in them to weather the financial storm.

But alas such initiatives were not enough. Soon thereafter, new methods for smelting were discovered. New and improved methods of combustion were innovated, and suddenly his relatively new furnace became obsolete. Quickly it became evident the Allaire's iron could not be produced at his Howell plant as cheaply as it could be elsewhere.

In 1846 Allaire relented, and reluctantly announced that Howell's furnace could no longer profitably make iron. Allaire's closing of the furnace marked the death-knell of the town. Very soon thereafter, the town's other industries shuttered and its population dwindled and finally disappeared.

For almost a century thereafter, the town languished in ruins. Many of the town's buildings fell into disrepair and had either been razed or had collapsed onto themselves. It wasn't until sometime after the beginning of the 20th century that the town was noticed again by curious passer-bys.

Ultimately the remaining buildings and property of the town were granted historic status. They were preserved and restored, and made available for access and study by the general public.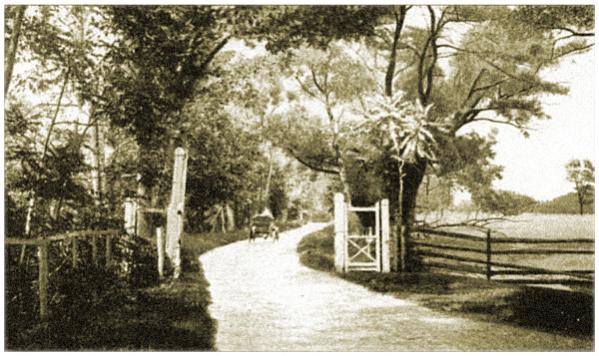 Entrance to the Howell Works Garden in the 1920s

Thanks,

Cheetah

__________________

Sources and Images:

1. Library of Congress Archives, "The Deserted Village"
2. Standard Catalog of United States Tokens 1700-1900 Fourth Edition, Russell Rulau, Krause Publications, ©2004, pgs.152, 229
3. 'Mystery Surrounds the Crumbling Ruins of the Site of a Once Prosperous New Jersey Town,' The Coalville Times.,October 18, 1901, Coalville Utah