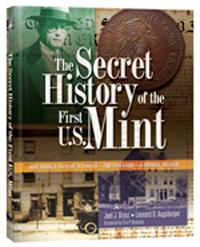 Winner, "Book of the Year" (the NLG's highest literary prize)


Frank H. Stewart is both the hero and the villain in this remarkable tale ripped from the headlines of early 20th-century Philadelphia.

He was a high-school dropout who wrote the definitive history of our nation's first coin factory. He was no art connoisseur, and yet he commissioned unforgettable paintings of the first U.S. Mint, by famous artists. A poor boy made good, Stewart bought the old Mint, labored to preserve it, and failed in the most dramatic way possible.

Could his later acts of commemoration redeem his failures in preservation?

The Secret History of the First U.S. Mint tells, for the first time, the full story of the paradoxical Frank H. Stewart and his self-appointed life's mission to celebrate an irreplaceable slice of our nation's heritage.

It is a tour-de-force work of scholarship that sets straight long misunderstood Mint history. This groundbreaking new book by award-winning authors Joel Orosz and Leonard Augsburger is filled with dozens of sketches, paintings, and photographs of the first Mint that have been preserved in archival collections for decades, and have not been seen by living numismatists until now.
336 Pages, Full Color, Hardcover.
---
The Authors:


Joel Orosz

Leonard D. Augsburger