United States Paper Money Errors,
by Dr. Frederick J. Bart. 2nd Edition.
Published by Krause Publications in 2003. 288 pages.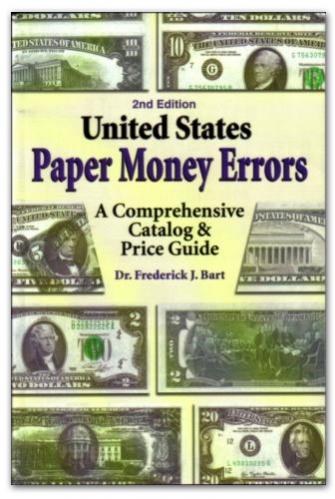 Introduction: Modern Paper Money Production. Condition and Grading. Values. Relative Rarity Index. Resources and References.

First and Second Printing Errors: Board Breaks. Double Denominations. Census of Known Large & Small-Size Double Denominations by Series & Serial Number. Faulty Alignments. Ink Smears. Insufficient Inking. Inverted Backs.

Missing Printings. Multiple Errors. Obstructed Printings. Offset Printings.

Overprint Errors: Inverted Overprints. Table of Inverted Overprints & Census of Known Small-Size Invert Errors by Series & Serial Number.

Misaligned Overprints. Mismatched Serial Numbers, Charter Numbers & Block Letters. Table of Known Mismatched Serial, Charter & Block Numbers on Large & Small-Size Notes. Missing Overprints. Overprints on Back. Stuck Digits, Stuck Block Letters and Inverted Block Numbers.

Folds and Other Errors: Cutting Errors. Gutter or Interior Folds. Printed or Exterior Folds. Miscellaneous Errors. Table of Mixed Denomination Sets.

Table of Black Plate 129 Engraving Errors. Table of Fort Worth 295 Micro Back Plate Errors and much more.
Superb reference for US paper money collector.