Established in the late 19th century, Young's Pier was an Atlantic City entertainment venue that flourished through the dawn of the 20th Century. Built over top a pier on the surf, among its various attractions, it offered thrill rides and other amusements including a roller coaster, a Ferris wheel, and a carousel.

Russell Rulau, in his book United States Tokens, lists several exonomia pieces that were issued from Young's Pier. All but two were tokens. The other two consisted of hard, rounded-rectangular celluloid cartouches. One of those celluloid cartouches includes an extremely rare 10-cent admission piece to Young's Flip-Flap Railway. The Flip-Flap Railway was one of the earliest roller coasters along the Jersey Shore -- and in the United States in general.

Listed by Rulau as Atl-25, and issued about 1905, below please find an example that I recently acquired for my cabinet. Quite rare indeed, Rulau lists but only one specimen known to exist in his 2004 edition. I have personally seen photographs of this one example that Rulau writes about.


The below issue is only the second known to exist. Needless to say, I have been looking for one of these for quite some time, with little hope of actually discovering one. Indeed, when I saw this one available, I had no choice but to avail the owner of it by purchasing it from him.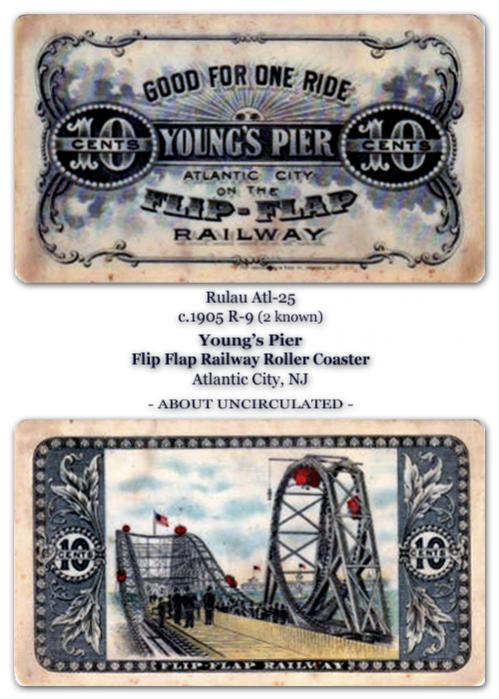 I estimate the specimen is About Uncirculated in grade, and measures 88mmx50mm. Additional inspection to verify grade will occur to upon receipt.

Moreover, a more extensive write-up about Young's Pier and the Jersey Shore's 19th Century amusements will follow sometime soon.

Thanks,

Cheetah


_______________________
Notes: 1. Standard Catalog of United States Tokens 1700-1900 Fourth Edition, Russell Rulau, Krause Publications, ©2004, pg.1022