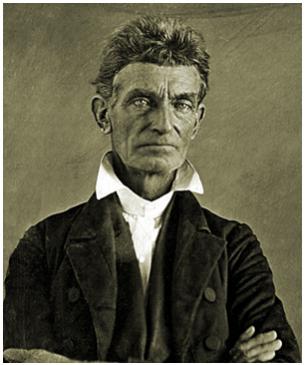 Born 1800 into a family with deeply religious convictions, John Brown was raised by a father who was ardently opposed to the institution of slavery. Puritans by faith, his family moved from his birthplace in Connecticut to northern Ohio when he was just five, to an area that became prominently known for its abolitionist views.


At 16 years o
ld, John Brown left Ohio and moved to Plainfield Massachusetts to further his education. There he enrolled in a preparatory program with the goal of becoming a Congregationalist minister.

Soon thereafter though, he developed eye problems and a shortage of money, and returned home to Ohio. Four years later, John Brown married Dianthe Lusk, and about a year thereafter, the first of 20 children, John Jr., was born.

During his first 50 years of life Brown had undertaken multitudes of professions.
He tried his hand as a tanner, a merchant, a land speculator, and as a farmer. Yet none of his business ventures flourished for long.
Many of his businesses in fact burdened him with tremendous and lasting debt. Despite such intermittent business success, Brown retained his strong religious beliefs, and earnestly remained a devoted opponent of slavery. Among his various abolitionist pursuits, Brown gave land to fugitive slaves, participated in the Underground Railroad, and in 1847 met with Frederick Douglass.

After outlining his plans to lead a war to free the slaves, Douglass himself was so impressed by Brown's dedication that he would later write:

In 1849 Brown moved to North Elba New York, a black farming community founded by the philanthropic efforts of Gerrit Smith. In exchange for agreeing to clear land and farm, Smith gave black families each 50 acres or more to start farms of their own.

Brown, sensing a need to assist with the community, moved his family to the community and established his own farm, in an effort to lead and mentor the new black farmers.
In 1851, in response to the newly passed Fugitive Slave Act, Brown helped form the League of Gileadites, an organization devoted to protecting escaped slaves from capture.

Yet even with his efforts supporting the abolitionist cause, it wasn't until 1855 that Brown emerged as a national figure in the America's anti-slavery movement.

Moving with five of his sons to the Kansas Territory, Brown became a leader of an anti-slavery guerrilla that dedicated its efforts to attacking territorial communities which favored pro-slavery stances.

Throughout the years of 1855 and 1856, Brown, his sons, and his guerrilla force fought throughout the Kansas and Missouri territories, waging attacks against anyone who supported slavery. In one example, Brown himself personally murdered 5 settlers in the town of Lawrence.

In November 1856 Brown returned to the east, and commenced his efforts at strategizing, raising funds, and enlisting manpower to initiate his war.



Brown Addressing the League of Gileadites
On October 16th 1859 Brown set a plan in action. He and 21 other men, including 16 whites and 5 blacks, raided the Federal Arsenal located in Harper's Ferry Virginia. The armory was a large fortification of repositories which contained nearly 100,000 muskets and rifles. Brown planned to steal the cache of weapons, and distribute them to local slaves in the Commonwealth.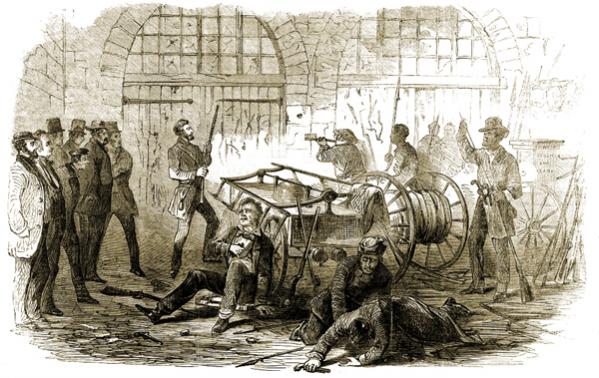 Brown's vision was to then take his effort south, enlisting more slaves from plantations as they journeyed through the state. His goal was to deplete the Commonwealth of its slaves, plantation by plantation, until his movement gained sufficient momentum to move deeper into the other pro-slavery states.

His aim was to economically cripple pro-slavery states until each fell into submission.
Needless to say, Brown's attempt at the armory ended in failure. Within a very short time Brown found himself wounded, and his cadre of men defeated.

Subsequently captured, he was transported to Charleston Virginia.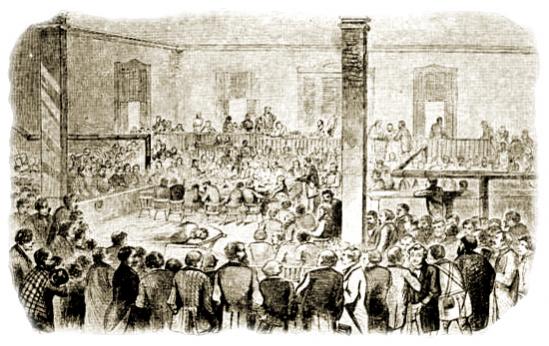 Tried and convicted of Treason, Brown was allowed to make a statement before the court prior to his sentencing:


"I believe to have interfered as I have done, . . . in behalf of His despised poor, was not wrong, but right. Now, if it be deemed necessary that I should forfeit my life for the furtherance of the ends of justice, and mingle my blood further with the blood of my children, and with the blood of millions in this slave country whose rights are disregarded by wicked, cruel, and unjust enactments, I submit: so let it be done."


Brown was sentenced to death, and nearly a month later was hanged on December 2, 1859.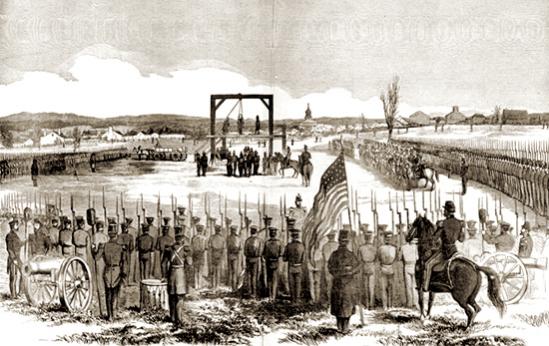 Historians over the last 150 years have had contrasting views about John Brown. Some have argued that he was a religious zealot and was America's first terrorist. Others argue that he was a martyr whose actions ultimately led to the freedom of millions.
Most however agree that his seizure of the armory at Harper's Ferry marked a watershed moment; the inevitable beginning of what soon became America's Civil War.


Numismatic Specimen

Below please find a John Brown medal.

The legend on its obverse reads SLAVERY THE SUM OF ALL VILLANIES / MARCHING ALONG.

The legend on its reverse reads RESISTANCE TO TYRANNY IS OBEDIENCE TO GOD / GIVE ME LIBERTY OR GIVE ME DEATH / 1859

Classified as a Dewitt SL-1859-1, the medal is silvered and grades at Choice Very Fine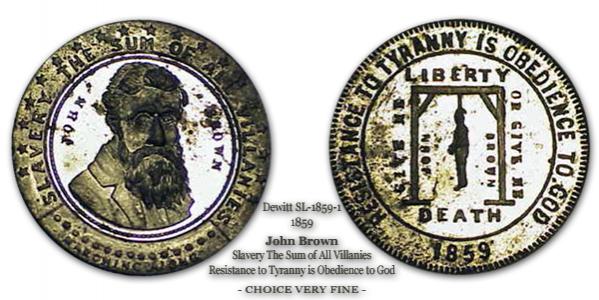 Thanks,

Cheetah
______________________________
Sources:
1. The Life and Letters of John Brown: Liberator of Kansas, and Martyr of Virginia, edited by Franklin B. Sanborn, 1885
2. The Underground Railroad From Slavery to Freedom, Wilbur Henry Siebert, 1898
3. 'John Brown in Springfield', Harry A. Wright, The New England Magazine Vol. 10, New England Magazine Co., 1894
4. Springfield 1636-1886: History of Town and City, Mason Arnold Green, 1888, pg. 505
5. 'People & Events John Brown,' Africans In America Resource Bank, PBS Online
6. Leslie's Illustrated Newspaper, December 10th 1859
7. The Library of Congress Digital Archives