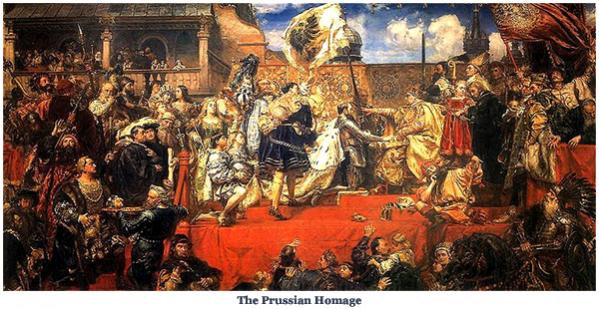 The Duchy of Prussia was founded in 1525 by Albrecht von Brandenburg. He was the last magister of the Teutonic Order. In 1525 Albrecht became a Protestant, and secularized the lands that belonged to the Order.

Consequently, Albrecht von Brandenburg became the first Prussian Duke. In that historical period the Kingdom of Poland was the one of the strongest countries in Central and Eastern Europe. And that is why Duchy of Prussia became a Polish vassal.
During the long reign of Duke Albrecht von Brandenburg (1525-1568), Prussia became a rather rich country. Moreover, Prussia became the one of Europes foremost educational centers, including the famous Koenigsberg University, which was founded in 1544.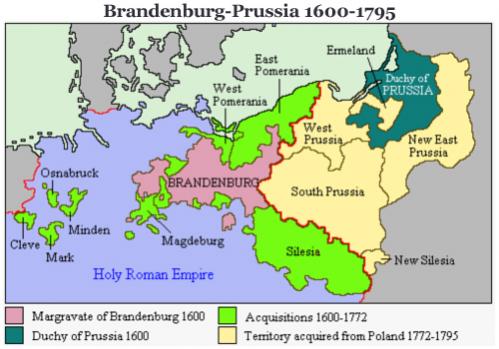 When Albrecht von Brandenburg died in 1568, his son Albrecht Friedrich became Prussia's second duke at only 15 years old. A unique case in European history, the young duke also lost his mother on the same day his father passed. Not only did he suddenly find himself a duke, he also found himself suddenly an orphan.


Four years thereafter, in 1572 Albrecht Friedrich married. His wife became Mary-Eleonora von Julich und Berg. They had seven children, two of whom died. Never having a son to take the reign, the Dynasty of Brandenburg came to an end when Albrecht Friedrich died in 1618.

Albrecht Friedrich was crazy and incapacitated during the last 10 years of his reign. In that period Johann Sigismund von Brandenburg was the regent of the Duchy of Prussia. In 1618 Johann Sigismund von Brandenburg became the third Prussian Duke. He joined Prussia and principality of Brandenburg, and it became a new large German state. But the reign of Johann Sigismund von Brandenburg did not last long; he died in December 1619.

His son George Willhelm became the Fourth duke of Prussia. During the Thirty-Years War (1618-1648) Brandenburg-Prussia was at war against Catholic countries. His reign (1619-1640) ultimately unsuccessful, Prussia became a Polish vassal again.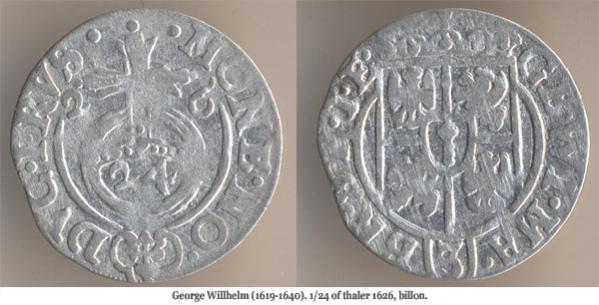 On December 1st, 1640, Friedrich Willhelm I became the Fifth duke of Prussia. He was the son of George Willhelm. The new duke was very clever and talented ruler. He ended the war with Sweden, and married Louise Henriette, the daughter of the ruler of The Netherlands.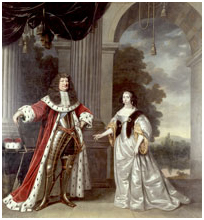 After the end of Thirty-Years war in 1648, Brandenburg attained the German lands of Magdeburg, Minden, Halberschtadt and Pomerania. In the period of 1655-1661, Brandenburg-Prussia took part in war against Poland as the Swedish ally. Attaining victory in 1661, Prussia once again ceased being a Polish vassal.

Beginning in 1661, Friedrich Willhelm I undertook a struggle against corruption. He opened Prussian borders, and allowed Germans from other states to lodge in Prussia. Thus, he quickly increased the population of Brandenburg-Prussia. The new settlers became devoted supporters of Duke Friedrich Wilhelm I.

Around the same time, about 20,000 people from France and Holland emigrated to Brandenburg-Prussia. Being good workers and masters, their arrival was good for Prussian industry and economics. Friedrich Wilhelm I founded the Berlin public library and university in the city of Duisburg.

At his death in 1688, Brandenburg-Prussia had been transformed into a strong European country.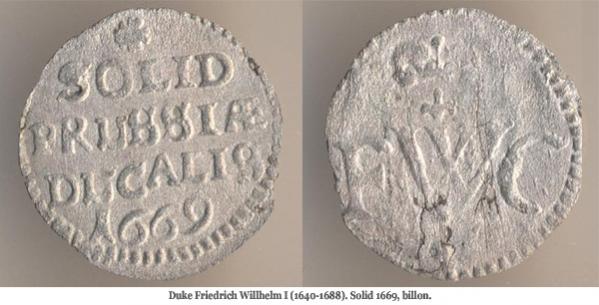 On May 16th, 1688 the son of Duke Friedrich Willhelm I became the sixth Prussian Duke, as Friedrich III. Like his father, he continued the economic and cultural policies of his late father.

On January 18th 1701, Brandenburg-Prussia became the Kingdom of Prussia. So, the Duke Friedrich III became the Prussian king as Friedrich I. The king was the talented manager. During his reign the Prussian Army sharply amplified. In addition, the King was a patron of poets and artists. Moreover, he founded a university in the city of Halle.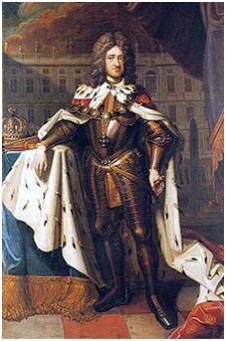 During the reign of King Friedrich, Prussia's Academy of Sciences and Academy of Arts were created. Friedrich I died on February 25, 1713.

King Friedrich Willhelm I became Prussia's second king. Despite having been the son of King Friedrich I, his character sharply differed from his father's. In contrast to Friedrich I having been regarded as an intelligent king, Friedrich Wilhelm I was regarded as a rough martinet.

The second king very much liked to fight, swear, and use obscene words. In his childhood the future king preferred to spend time in soldier's barracks. Affecting his character and education, Friedrich Wilhelm I grew to become an excellent potential corporal. But his destiny made him king.

Willhelm I turned out to be regarded as a good king. He imprisoned bribe takers and embezzlers of public funds. He was able to reduce State expenditure four times. Subsequently, a law on equality of all citizens of his kingdom was passed. And the King further strengthened Prussia's Army.

At the same time, Willelm I despised a science and art. Showing an interest in the sciences, he beat his own son. In 1730 his son Fridrih attempted to flee abroad. Despite his attempt, Willhelm I caught him and imprisoned him.

Shortly before his death, King Friedrich Wilhelm I said about himself: "I am an old torturer of people". Friedrich Wilhelm I died on May 31st, 1740.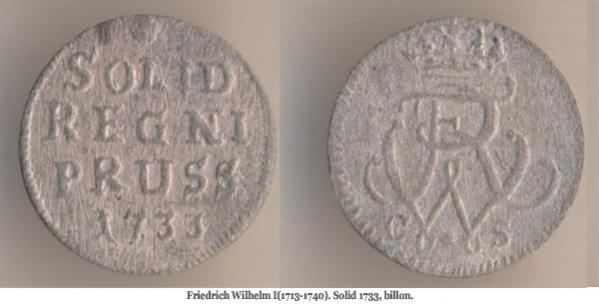 Thanks,

Siberian Man